How biotechnology can optimize agriculture in Nigeria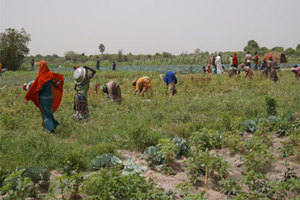 'ÄúWith the down turn in the global prices of oil, we now have to prospect our solid minerals. We have to return to agriculture,'ÄĚ President Buhari to members of the Council of Saudi Arabian Chambers of Commerce and Industry.
According to the United Nations projections, the world population will be 9.8 billion people by 2050 and Nigeria which currently ranks seventh, will become the third most populous, replacing United States. It is currently about 200 million people.
Since his assumption of office in May 2015, President Muhammadu Buhari has repeated said that the nation's economy must be diversified to, especially Agriculture which "must cease from being treated as development programme but be treated as business.
Our goal will be to pursue government supported private sector agriculture value chain to make agriculture more productive, efficient and competitive.'ÄĚ The drastic fall of oil prices in the international market has directed the thinking of the Buhari administration to diversify the economy to, specifically agriculture and one possible means of doing this is the deployment of biotechnology. It serves as a tool for sustainable development in agriculture and could boost food security in Nigeria. 'Äé
It is therefore appropriate for the country in order to boost the production of maize, cotton, rice, beans, wheat, cassava, etc to, not only meet up with our consumption needs but also for the purpose of commercialization.
Dr. Muhammad Lawan Umar, a plant breeder with Institute for Agricultural Research of Usmanu Danfodiyo University, Zaria observes that 'ÄúBiotechnology has made possible what was impossible for the traditional methods to make by use of the new techniques. This has become realisable, especially I advanced countries, where such technology has been adopted and it can work wonders for developing countries, like Nigeria.'ÄĚ
He gives an example of the pod-borer resistant beans on which efforts had been made to discover the source of the resistance without success. "So far, 15,000 different types of varieties have been assembled and screened in order to identify the cause of the resistance. Experts agreed that the only option is to use biotechnology, which has now identified the maruca-resistant beans.
This was a global phenomenon from America down to Africa where the problem of maruca is more, "he said. Umar adds that tests have been conducted in West Africa (Ghana, Nigeria and Burkina Faso) where traits that were resistant to those insects have been identified. "Biotechnology been used to transfer the genes to farmer-specified varieties adapted to different ecology in these West African countries. We have realised four to five times increase in yields and we are moving towards commercialisation.
Secondly, biotechnology has shortened the time of developing and releasing a variety. This is done in three to four years if there are no regulatory agencies that may delay the process. With the use of molecular marker, you can select a plant at a tender stage 'Äď in fact you can select a grain to see which one carries the gene or not.
But with the conventional methods, we used to spend eight to nine years to develop and release a variety because we had to plant it, grow it and then harvest it before you can assess,'ÄĚ he explained. Adebayo Olusoji, an Agriculture Extension and Rural Development Expert with the Oyo State College of Agriculture and Technology, Igboora said that biotechnology is an innovation has done well for Nigeria'Äôs cassava production. 'ÄúPresently, we have more than twenty genetically modified improved cassava varieties with an average yield of 25-45 tonnes per hectare.'ÄĚ
He adds that 'Äúin cassava value chain, processing of improved cassava has resulted in high quality starch, which is being exported abroad. Biotechnology has not left out annual crops like maize, soybean, etc. As we have pro-vitamin 'ÄėA'Äô maize, Alfa toxin free soybean, etc. A good step is Nigeria'Äôs adoption of biotechnology in agriculture through the Biotechnology Policy, which led the establishment of the National Biotechnology Development Agency (NABDA).
And in order to address safety concerns, the National Bio-safety Management Agency (NBMA), a full-fledged agency that provides regulatory frameworks for sustainability has been established. Prof. Lauwali Abubakar, the Director at the Centre for Agricultural and Pastoral Research of the Usmanu Danfodiyo University, Sokoto said that Nigeria's population growth was against the low agricultural productivity. "Our population is expanding while our agricultural production is low.
We need biotechnology, which will bring multiple food production in a limited period.'ÄĚ Hamma Ali Kwajaffa is former President of the National Cotton Association of Nigeria (NACOTAN) and 'ÄéDirector General at Nigerian Textile Manufacturers Association said that biotechnology could develop African cotton, especially now that the product is in completion in the international market. 'ÄúBiotechnology has increased the tonnage of cotton per hectare in America, China and India and their farmers are happy with it.
We have not been able to achieve one tonne per hectare in Nigeria while those using biotechnology are harvesting five tonnes per hectare. Generally, our farmers have been left out,'ÄĚ he said. He cited Burkina Faso as the number country in Africa that applied biotechnology on commercial level for cotton. 'ÄúWhen Nigeria starts full application of biotechnology after field trials, the story will be a different one. Biotechnology will boost our agricultural productivity in no small measure.'ÄĚ
Thanks to biotechnology, India which was least known in agriculture became world's largest producer of cotton; Argentina leads in the production and export of soybeans and Burkina Faso, in the last two years became Africa's largest producer of BT cotton. Therefore, Nigeria has no choice than to consider the deployment of agricultural biotechnology, especially if food insecurity is our concern against the projected population explosion.