Gulf trade with Africa a growing source of optimism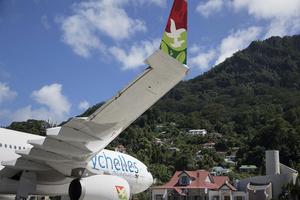 Trade and investment between Arabian Gulf countries and Africa could historically be summed up in one line: oil going one way, a few agricultural products going the other.
This is now changing as an increased diversity of capital is on the move in both directions.
UN figures show that total merchandise trade between Africa and UAE alone increased from US$5.6 billion in 2005 to $17.5bn in 2014, the latest year available.
The evolution of financial interaction begins with a migration by Gulf economies away from mostly doing business with North Africa. Now, the relationship extends from Cape Town to Cairo.
The fact that the South African president Jacob Zuma was on Tuesday facing a secret vote of no confidence may affect relations with South Africa in the short term - should he lose - but that would be unlikely significantly impact overall trade with the continent
"There is a definite increase in interest in Africa as a whole by Gulf economies," says Ebrahim Deen, a researcher at the Johannesburg based Afro-Middle East Center. "Foreign direct investment [FDI] to Europe and elsewhere has slowed somewhat and Gulf countries are looking elsewhere to place offshore capital."
Africa-focused investment is also taking advantage of another Middle East trend. Over the past few decades many Gulf industries were set up not only to service locals, but also to expand economies away from purely resource exports. Now, as these industries mature they need fresh pastures to grow.
In particular infrastructure-related companies have found fertile ground across the 54 countries that make up the African continent.
A few of the most visible Gulf investors include the Saudi Telecom Company, which holds a 75 per cent stake in Cell C, a mobile operator in South Africa. The Investment Corporation of Dubai has placed $300 million in Dangote Cement of Nigeria, one of Africa's fastest expanding companies; Etihad has bought a 40 per cent stake in Air Seychelles; and Rani Investment, based in Dubai, is a key investor in Mozambique's tourism industry where it operates luxury hotels.
Tourism is especially alluring to practiced Gulf operators and an emerging African hospitality scene.
"The growing relations between GCC and Africa contribute to the development of their economies by forging economic cooperation based on mutual benefit and common goals," says Ravi Kumar Chandran, the director of IDE Consulting, a hospitality consulting group. "For years, both regions have served as a convenient communication hub and corridor between countries of GCC and Africa, and have established a strong partnership in many fields, such as transportation, hospitality, real estate, air transport and mining."
For some countries trade is simply about proximity. The UAE is now the leading destination for Ethiopia's meat exports, taking 60 per cent. Saudi Arabia has a share of 38 per cent and the rest is exported to other Middle East countries, according to the Ethiopian Meat Producers-Exporters Association.
So important has this market become that the Ethiopian Meat and Dairy Industry Development Institute said in June it was making special provisions to meet the jump in demand expected over Ramadan.
"We are increasing our normal operation of 1,500 tonnes of monthly meat export to Dubai and Saudi Arabian market to over 2,600 tonnes and are set to obtain over $12m in this fasting month," Khalifa Hussein. the Institutes' director said in the Ethiopian Herald at the time. "Ramadan's revenue has surpassed the non-fasting months amount by over $3m."
Unfortunately, African countries are not always the most predictable places to do business. A consortium of UAE investors including Etisalat and Mubadala have just withdrawn support from Etisalat Nigeria as it collapsed under a weight of debt caused in part by a surprise currency devaluation.
Another Gulf company struggling to come out ahead is the Saudi Arabian energy firm Acwa. It is currently caught up in a wider dispute that pits the South African electricity provider Eskom against a couple of dozen renewable energy providers. Eskom wants to renegotiate the initial price settled for electricity from these companies and has not signed final purchase agreements with them.
As a result, Acwa, along with 36 other mostly foreign investors building wind, solar and other renewable projects, face the possibility of operating at a loss. Acwa's concentrated thermal system that stores sunlight heat energy in a tower of salt has a budget of around 8bn rand (Dh2.19bn) and was slated to come online next year. It is now unclear if the project will go ahead. A spokesman for Acwa declined to comment.
Still, such blips are unlikely to dampen trade and investment activities, says Mr Deen. "One-off investment events like this won't change the big picture much. Countries will still adhere to a big-picture overview and keep their relationships going in spite of disputes." He adds that South Africa continues to gear up arms exports to the Middle East including Saudi Arabia.
Rather, potential investors would be more wary of a general political breakdown than of isolated mishaps.
"South Africa's attractiveness to investors will be measured by its ease of doing business and economic and political stability," says Thabi Leoka, an economic strategist at Argon Asset Management in Cape Town. "There may be unfortunate incidents that could deter ‎investments, but I believe political and economic instability are the biggest determinants."
Ms Leoka notes that Mr Zuma paid a state visit to Saudi Arabia last year, and has said the region as a whole is of strategic economic importance to South Africa.
South Africans are also mindful of how in just a few decades GCC countries have leaped from being relative backwaters to among the most advanced in the world. As a result countries such as the UAE, where 10,000 South Africans are said to work, form a kind model they hope will be emulated back home.
"Given its impressive development story, the Middle East will continue to be important strategic partner for South Africa," Ms Leoka says.